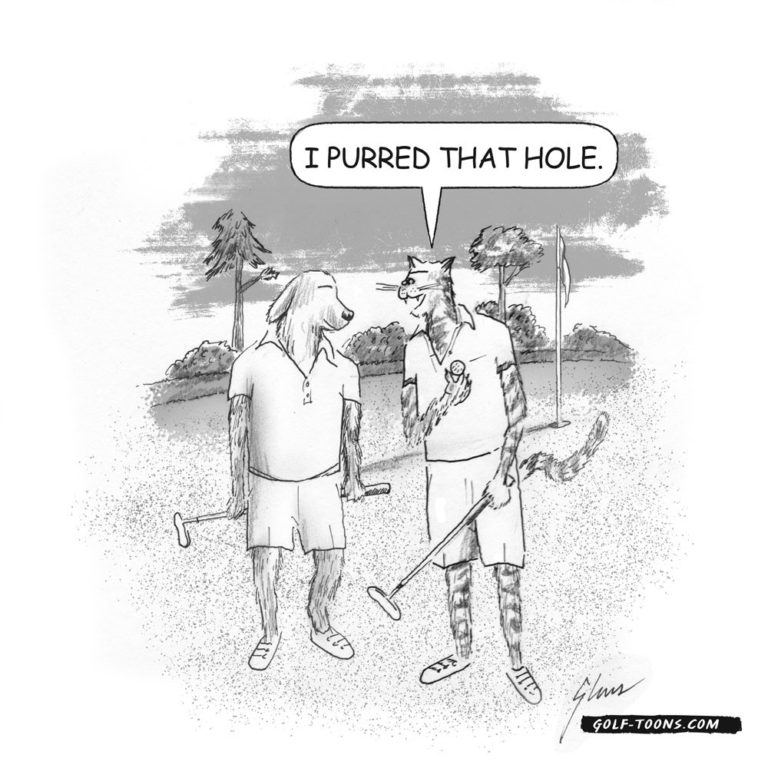 Purr. What is your golfing animal spirit?
Purr Golf. Are you a silky swinger that slinks around the course, purring like a cat and chasing the occasional birdie? Are you a mutt that doggedly digs shots out of bunkers to save pars?
Or maybe you are the bear that hibernates for a dozen holes, then wakes up and tears up the last few holes. I'm not sure I want to know a snake golfer. Maybe they slither putts that wind every which way.
Bull spirit golfers just overpower courses with their immense power, and Eagle golfers send soaring shots in the sky.
Hopefully, you are not the fish that always ends up in the water. The downside of Monkey spirit golfers is they find the trees more often but sure can make a round of golf fun with their idle chatter.
Do animal spirits of golf conflict at times? The dog spirit golfer, two down to the cat, starts chasing them around. Maybe.
Animal sounds abound on the course. Tweets after birdies. Barking after drained putts. Screeches after chunked shots.
Golf can be like a zoo at times.
*****
Golftoons is a scheme between two golf buddies, Michael Duranko and Marty Glass. If this side-hustle makes any money, they're gonna blow it on a golf trip. Enjoy!
Please subscribe and check out the social media pages. There is some pretty funny stuff that probably does not make it to this website.