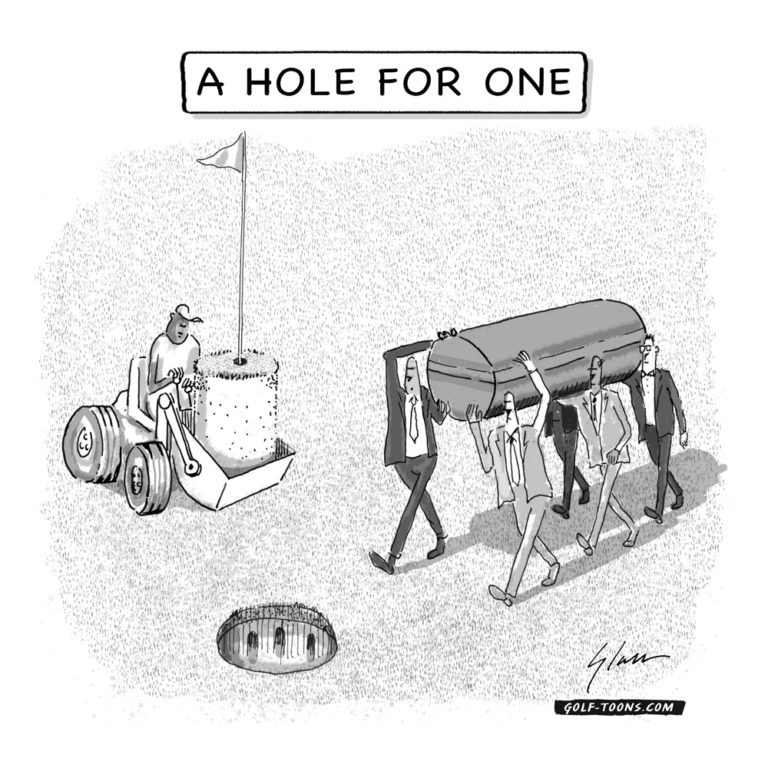 Buried Lie
Buried Lie. Golf can be a lifetime pursuit, giving it a unique status in the world of sport.
So deep is their commitment to the game, oftentimes when golfers pass on friends and family memorialize them in special ways.
Famed golfers will have golf courses or holes named in their honor.
Upstanding country club members might have a permanent plaque on a bench overlooking a favorite hole.
Other golfers may bequeath their cremation ashes to be scattered on a favorite hole as part of a Last Will and Testament, regardless of local ordinances or common law restrictions.
But has anyone been buried under a green?
Who wouldn't like to finish one under?
Golftoons is a scheme between two golf buddies, Michael Duranko and Marty Glass. If this side hustle makes any money, they're gonna blow it on a golf trip. Enjoy!
Check out our daily golf history podcast, Your Golfer's Almanac celebrating birthdays, milestones, and other accomplishments that have occurred on this day in golf history.
Play Fast, Replace all the ball marks you can find, and keep your ball on the short grass.