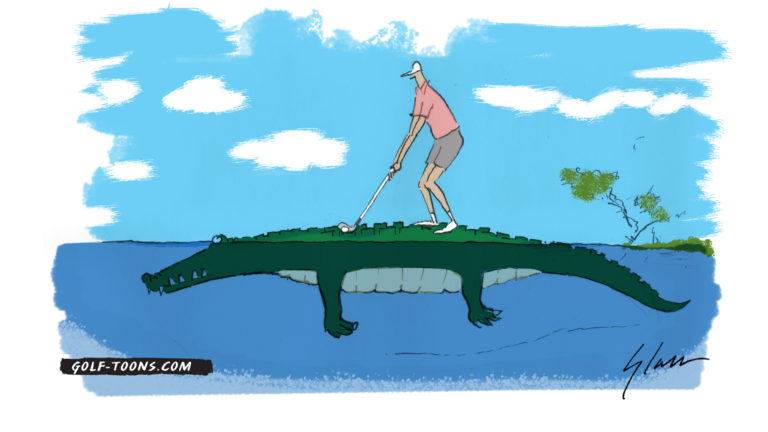 Florida Man Plays It As It Lies, and Hits Golf Ball Off the Back of Alligator
Last week, a Florida man escaped serious injury after hitting an 8-iron off the back of a 12-foot alligator.
"I came up a little short of the green, but managed to save par," said Bodean Ogilvie on the 366-yard par 4 at Dodgy Lakes Municipal Golf Course in Asphalt, Florida.
Ogilvie added, "This course needs a mowing worse than my neighbor's yard, and the rough is gnarly. I guess the gator's back just sort of blended in with the rest of this dog track. He didn't move until I started my downswing."
As the ground under Ogilvie's feet shifted, he never lost focus and executed a respectable approach shot to the 14th green.  The gator, estimated to be at least 12 feet in length and weighing more than 700 pounds, completely surprised the clueless Bodean.  Florida Man vs Florida Gator.
Locals familiar with the Florida Gator have given the beast a name, "Hungry." Many have commented that the gator's appetite has depleted the fish supply in the local ponds and lakes.
Ogilvie was 2 down with 5 holes remaining in his match with a local minister, Father O'Fairway. "I thought the ball was in the hazard and was surprised to see it above the waterline." O'Fairway continued in a heavy Irish brogue, "I thought something was fishy. The next thing I know, Bodean is running for his life with the gator in chase."
When asked to comment on this monstrous course hazard, Dodgy Lakes greenskeeper Wiley Von Trapp was adamant. Referring to the many posted signs on the Municipal course, "All golfers play at deir own peril." Von Trapp ended the discussion, "Enough complaining. Vee live in Florida! Gators are a part of golf!"
GolfToons
Golftoons is a scheme between two golf buddies, Michael Duranko and Marty Glass. If this side-hustle makes any money, they're gonna blow it on a golf trip. Enjoy!