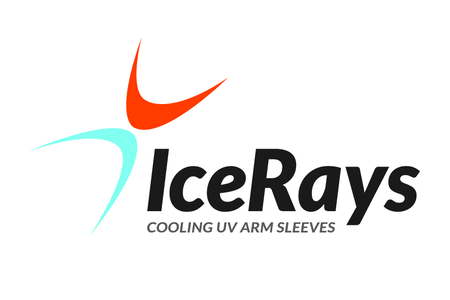 IceRays Sun Sleeves Review
This IceRays Sun Sleeves Review is long overdue. But when I look back on the golf year of 2020, I find many excuses. Allow me to explain.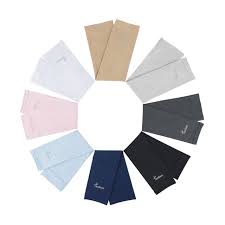 The year started with cool weather here in Southwest Florida, the "Golf Coast," as some call it. I did not need any sun protection for my arms with our winter weather, relying on sweaters or wind shirts.
Now, as I get back into the swing of things, it is time to roll on my sleeves and review the IceRays SunSleeves.
It sounds like a strange place to start, but I love the color options available in IceRays. You will find nearly a dozen different shades. And while I do not pay much attention to my golfing outfits, my socks match, but that's about it. The color options are what initially attracted me to IceRays.
When the Covid Virus hit, the weather turned perfect. I mean room temperature, low humidity ideal just as I sheltered in place and stopped playing golf.
Skin Cancer
I had minor skin cancer on my inner elbow and had outpatient surgery to remove it. There is no such thing as minor cancer, as many of you know, and if you don't, just ask someone.
Further, I thought a centimeter was a millimeter, and so when the doctor said he needed to take 2cm on all sides of a suspicious mole, I was not concerned. After the Doctor took a grape-sized chunk was taken from my right arm, I drastically changed how I think about cancer. And you should too!
So, last year I started wearing sun sleeves when I golfed. I bought only white sleeves, as a novice, that is what I found online. After wearing the white sun sleeves a few times and getting used to my upper appendages' blinding reflection, the brightness started to fade.
My bright white arms started to look grungy. Now again, my outfits and general appearance are not a top priority for me. Then again, dingy is not what I was attempting.
Any stains from dirt or blood (golf is a sport) or grass stains (sometimes I fall while getting out of a deep bunker). The cumulative wear shows up.
So, now past the novice stage, when I saw the black and the gray Ice Rays at the PGA Show in Orlando this January, I bought them from the owner. Anne Rolle is from Australia, where the sun is brutal, and it seems the golfing community takes sun protection far more seriously than we do here in the US.
Anne Rollo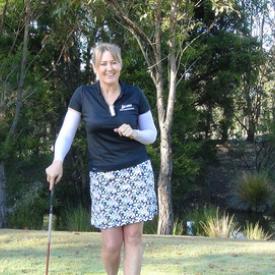 When asked, Anne told me she loved the Ice Ray product so much that she bought the company. And here she is in an Orlando golf convention hall pitching IceRays. As for Anne's golf chops, she went to San Jose State University and led the team to their first NCAA championship in 1987. Anne tied for medalist in the individual competition but lost in a playoff.
Her professional career brought her to the LPGA and the Ladies European Tour, where she won 22 times over an 18-year career. Anne now lives outside of Sydney, teaches golf, has a growing video subscription, and is active on social media, especially YouTube. Her videos are very informative, but she has a great sense of humor and does not take herself or golf too seriously.
IceRays Sun Sleeves
Celebrity endorsements aside, now back to the sun sleeves. There is a lot of competition and many cheaper alternatives. When you start to compare, the differences are apparent. As the name implies, a technical component suggests a "cooling" effect as sweat wicks from your skin. Adsorption is the technical term.
I did not feel "icy cool" on my arms, but I have found the sleeves to be cooler than my arms without the sleeves. That is right. The sleeves feel cooler in the sun than my arms without sleeves. No need to slather (and reapply) sunscreen that ends up getting gritting after a few recovery shots from a sand trap.
When I tell people that I prefer wearing sun sleeves, they don't believe me. Everyone knows the dangers of skin cancer, and when you go golfing, you will be amazed at all this skin showing. It is terrifying! I want to warn each person to protect themselves, "Cover Up Your Arms" You don't want skin cancer. BEWARE.
IceRays Sun Sleeves Review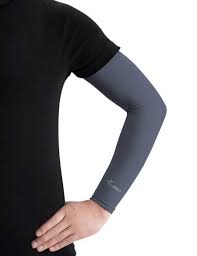 But back to the sleeves, another noticeable advantage the Ice Rays have are the end seams. I have found other sleeves, both the more expensive and the cheaper options, irritate my upper arm. I do not have bulging muscles, though I am about to begin a serious weight training regimen that I've been planning for many years.
But my upper arms got pinched at some point in the round by the annoying sloppy end seams. Ice Rays have a generous hemmed seam, and it makes a huge difference. Not so much on the wrist, but very comfortable at the upper arm.
Some sleeves have a seam the sleeve's length, from top to bottom, though this style seems to come on less expensive sleeves, and it appears to be older technology. Seamless is more prevalent and worth the expense.
Arm Girdles
After a slight adjustment, the feeling of swinging with sleeves feels natural and maybe even great. Any loose flash anywhere on your arm gets secured. You could call them "Arm Girdles," which might appeal to a specific set of golfers. But I am not sure how the marketing campaign would roll out? Arm Girdles ___. Use your imagination. I got nothing.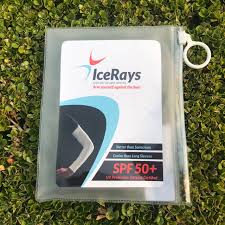 You will feel like a "Sleeker" golfer, with no resistance at your takeaway. Your follow-through will also feel lighter and more comfortable. And you will have one less thing to think about on the golf course.
You can find Ice Rays Sun Sleeves on the counters of more than 300 golf shops across the US, as well as most golf retailers and online at www.IceRaysSunSleeves.com.
Wear sun protection on your arms every time you play golf, even if it's a cloudy day. Put them on and send a picture to your loved ones. Your family will love you for avoiding the dangers of skin cancer. And then buy a pair of IceRays sun sleeves for someone you love.