The Big Let Down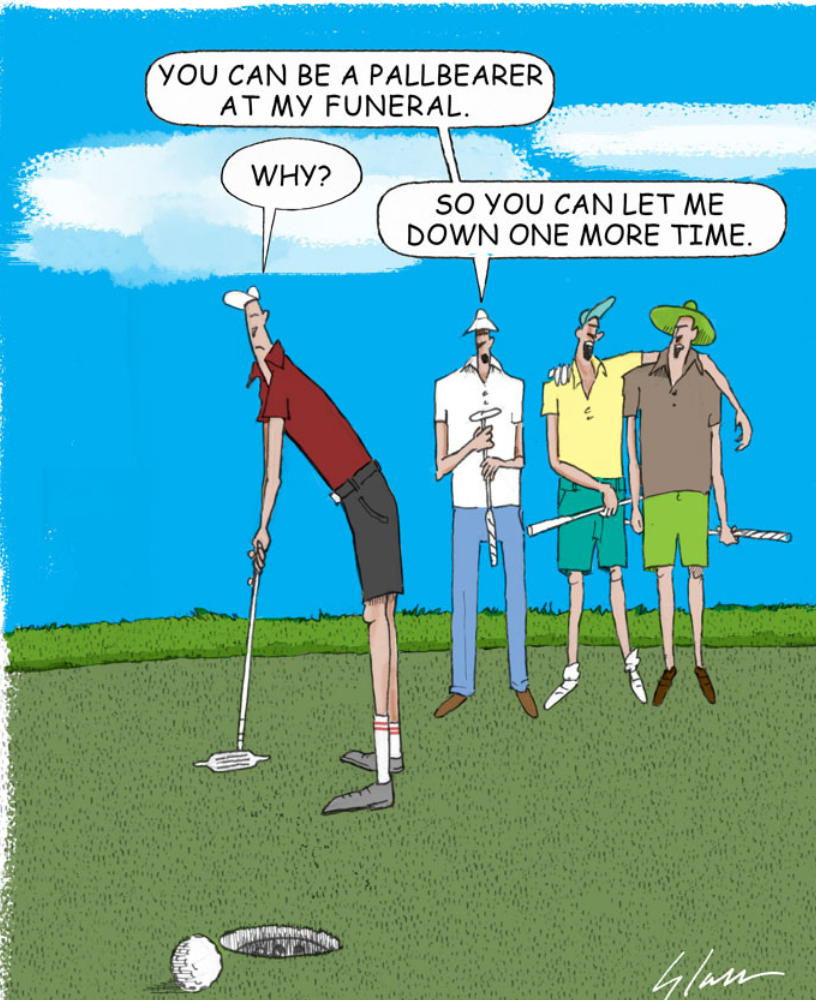 Golf is hard enough on your own but add a partner into the mix, and things get interesting.
A playing partner can act like a caddy, keeping you from attempting insane shots, in favor of smarter decisions you are incapable of making on your own.
They can also help you read putts, confirm your line or point out an influence on the green you didn't see.
Partners, good partners play well when your game inevitably falters. What is better than 'Ham and Egging it' on your way to winning a few dollars? How sweet it is!
But internally, two-man golf or team golf brings a different set of dynamics for you to contemplate. Bobby Jones famously said "Golf is played on the five-and-a-half inch course between your ears."
Falling short of your own expectations is difficult enough, but now you are responsible for another person's golfing experience.
This added pressure, some say, only makes for a more interesting game among friends.
But Ben Hogan often quipped, "I play golf with friends, but they are never friendly matches."
Team golf offers the highest highs, someone to celebrate with at the 19th hole. A friendly face to share a stifled smile when your opponent lips out that crucial putt.
Or, the lowest of lows, when someone rightfully blames you for skulling that chip into the pond.
Partnering up with a fellow golfer just oozes with camaraderie and is a reliable way to sweeten any day on the links.
The added drama of team golf is what makes events like the Ryder, Solheim, Curtis and Walker Cup so wildly entertaining to watch. Or any other Cup contested in some far-flung golf hinterland.
Lanny Watkins summed up the pains of partner golf, when he said,
"I've left my partners hanging out to dry, and it's an awful feeling. You're trying as hard as you can and you just can't make it happen. Without fail, it comes down to the crucial shot, and you're not the one playing well and you end up tanking your partner. It doesn't feel much worse than that."
The Big Let Down
Golftoons is a scheme between two golf buddies, Michael Duranko and Marty Glass. If this side hustle makes any money, they're gonna blow it on a golf trip. Enjoy!
Check out our daily golf history podcast, Your Golfer's Almanac celebrating birthdays, milestones, and other accomplishments that have occurred on this day in golf history.
Play Fast, Replace all the ball marks you can find, and keep your ball on the short grass.