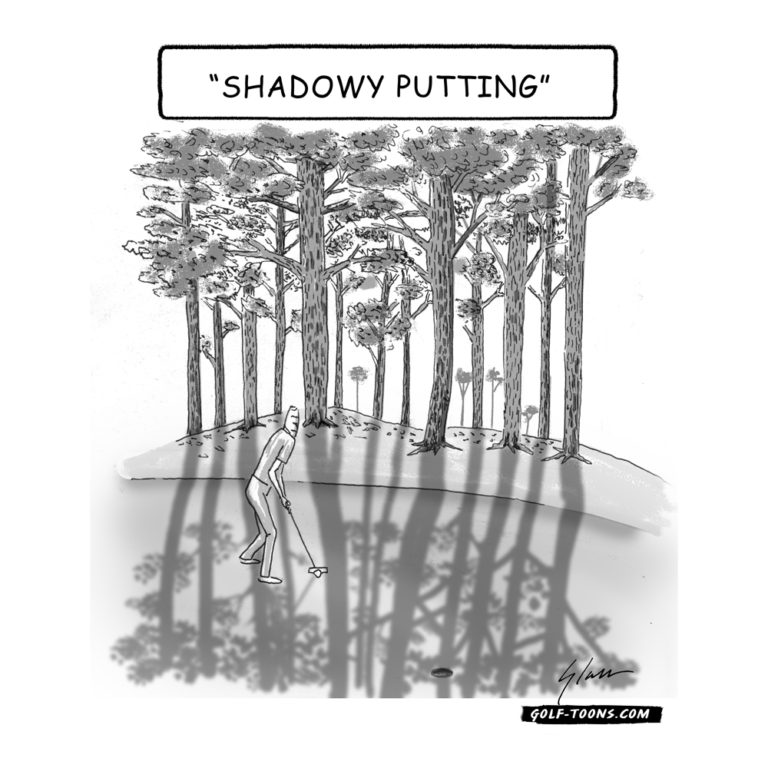 Shadowy Putting
I love playing golf at the end of the day. Shadowy Putting.
What is better than playing golf at dusk?  Speed playing to get to the last hole before dark.  Or playing the last hole when you can't see down the fairway and you have to listen.  The joys of Summer golf!
I live across the street from my course, and I have spent the summer teeing off after 7pm. Sometimes with 5 clubs in my Sunday Bag, other times pushing my trolley.
I have a 2-hole route, a 4-hole route and then lots of options for more holes. It all depends on the light and how I am playing.
A match against my second ball is a lot different than playing a Saturday morning match against the sharks that I swim with. As Guy likes to say, 2nd ball All-American!
Later in the day the shadows come out, unlike high noon when there is no shade on any of the greens.  The trees stretch their shadows into your sightlines.  Ridges are hidden, distractions are numerous and the imagination runs wild.  The non-existent stakes are huge after the sun sets. Shadowy Putting.
But I fight through the distractions and the putts go in. If they don't, I reach into my back left pocket and drop another ball, and keep putting until I find the bottom of the cup.
I love playing golf at the end of the day.