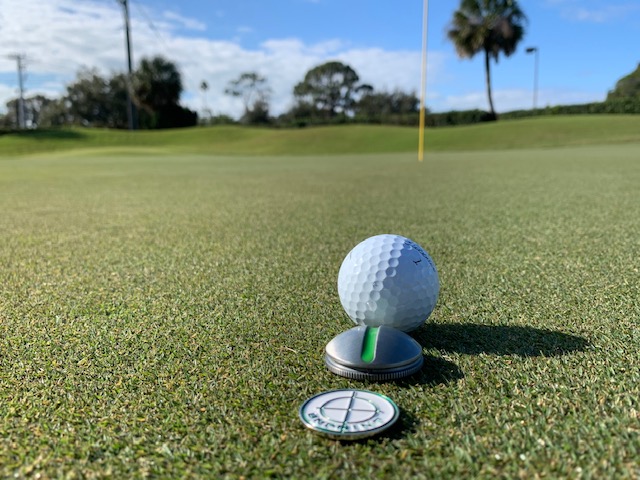 On Saturday I tried out my new On Point ball marker for the first time. Our golf league played at Legacy Golf Club in Lakewood Ranch near Sarasota, Florida in late January 2020. I got my On Point ball marker at the PGA show last week. This On Point ball marker review is the first time using it on real grass.
Jim Furyk
I watched the Jim Furyk video and thought I had a good sense of how On Point can help my putting alignment. This ball marker is pretty weighty, and so I could feel it in my pocket.
BENEFITS OF ON POINT BALL MARKER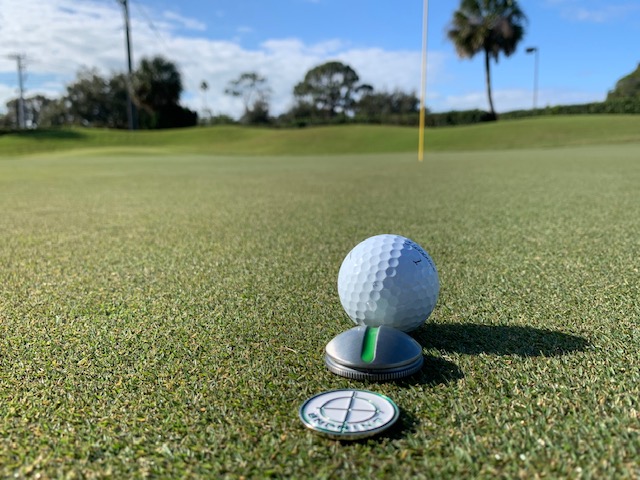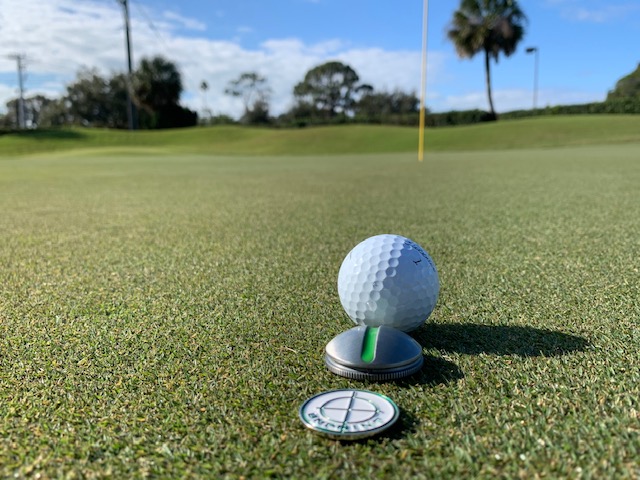 The concept is a three-dimensional ball marker that helps with alignment and visualizing putts. The very visible line can improve confidence in reading greens, and perhaps allow you to pay more attention to the speed rather than the line. If you have a line on your golf ball, you can match it to the On Point line.
Another benefit is the exagerrated size allows you to read your putt from a distance, while other golfers are putting speeding play. The On Point ball marker conforms to USGA Rules 20-1 and 22-2.
The unit stands out on the green and reminded me of GolofToons #25 – Anything Smaller. I did get a few golf buddies asking me 'What the Hell' but I never used it when my mark was anywhere near someone's line. And I never told anyone, keeping On Point as my own secret weapon.
I put the On Point in my right pocket with my ball repair tool and tees. Then, I tried putting in my left pocket, usually empty. Finally, I left it on my golf cart seat, thinking that might help in some way.
RESULTS
The results were of this On Point ball marker review? I made no putts. I did make two par-saving putts longer than 6 feet. And that's it, no birdies.
I don't know if I wasn't using On Point as designed, or really what to say, but I could not get the ball in the hole.
However,
I did shoot at 77, my best round in many years. Forward tees, but so what!
I hit 11 of 14 fairways when I typically hit 8 or 9 fairways.
I hit 14 of 18 greens in regulation when I usually hit 6 or 8 GIR.
While I did have two 3-putt greens, both were from over 40 feet, which is expected with my game. Check it out on my Get Real Golf Stats.
Try as I might, I really can't blame On Point for any of my putting challenges. Some days the ball stays out. And I was close with a lot of No-STRESS tap-ins.
If somehow On Point gets my ball in the fairway, and gets my ball on the green in regulation, then I am sold.