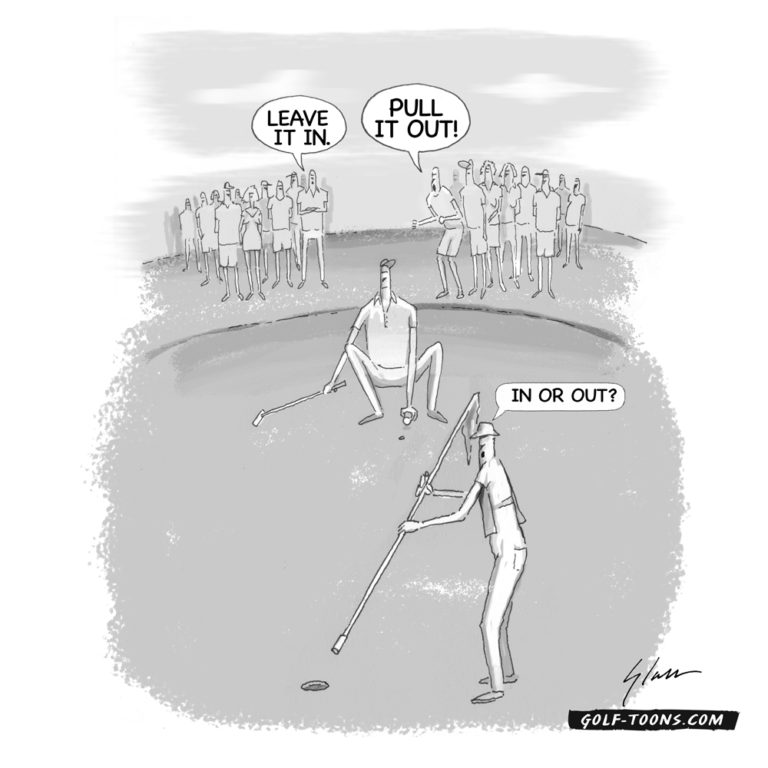 It's but the early days of 2019, and already the new changes to the rules of golf are creating a buzz. The noisiest reaction being the "Leave It In vs. Take It Out" argument. This new rule allows players to leave the flagstick in the hole when putting. It makes sense and should speed play in most instances. In or Out?
It seems two camps are forming. One camp believes leaving the pin in all the time is the best way to go. Called the "In-Crowd," they believe the pin helps with alignment and judging distance. And the ball has a better chance of going in, especially on the downhill putts. The physics and field studies seem to be on their side. I saw proof in a YouTube video, so it must be true.
The other camp, the "Old Schoolers," may ignore the option or just bad at remembering new rules. Heck, Phil doesn't know them yet, so cool your jets. "In Crowd," Phil Mickelson is eating lunch at our table. They also feel the pin can be a distraction on shorter putts.
Has it actually sped up play? I have played a round of golf with both an "In-Crowd" and "Old Schooler." In and out, in and out, in and out, and on to the second hole.
What do you think, in or out?
Are you a member of the "In-Crowd" or "Old School"?
Next week we talk about the 2019 edition of the drop ball for relief rule and the push-back from short golfers.