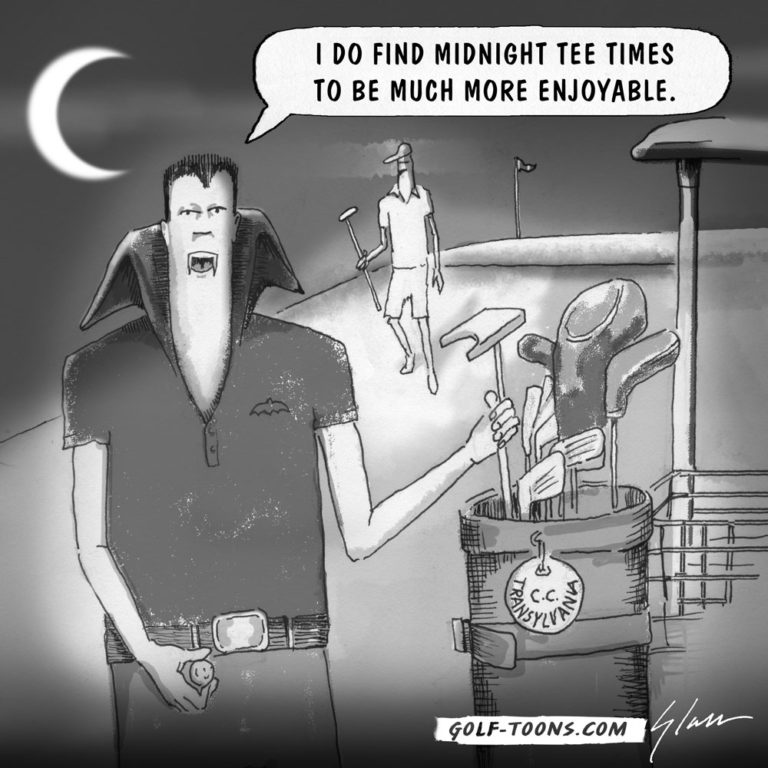 Imagine playing golf for a few centuries and what it must be like for someone as old as Dracula. From course design, advances in equipment to innumerable rules modifications, he has been through many changes. Interview Vampire Golfer.
Although he complains endlessly about finding courses honoring midnight tee times, he does appreciate ball technology improvements. "I find the low spin ball has elevated my game dramatically, " says the Count.
He hasn't lost much distance due to aging, and equipment improvements have added at least 75 yards to his drives. Impressive at the age of 542. He does confess that it took him 61 years to putt decently.
Since the Count plays during "off hours," he seldom has to suffer playing behind a slow foursome. The last time he got caught behind a dallying group, the entire foursome mysteriously vanished somewhere between the 5th green and the 6th tee box at the Transylvania Golf and Country Club (the Hades course.) Interview Vampire Golfer
His favorite golf gambling game is a version of skins he calls "First Blood." The one variation is that when a tie occurs (also known as "no blood"), you can contest the tie in a "longest off the tee" on the next hole. If the next hole is a par three, closest to the pin is used and is referred to as "bloody hell."
Dracula also thinks some of the new rule changes for 2019 are long overdue. "Back in the day, we used to leave the flag in the hole all the time. Especially when you're playing in twosomes, it just makes sense and speeds up play. The last thing I want to risk is getting to the 18th hole as the sun rises."