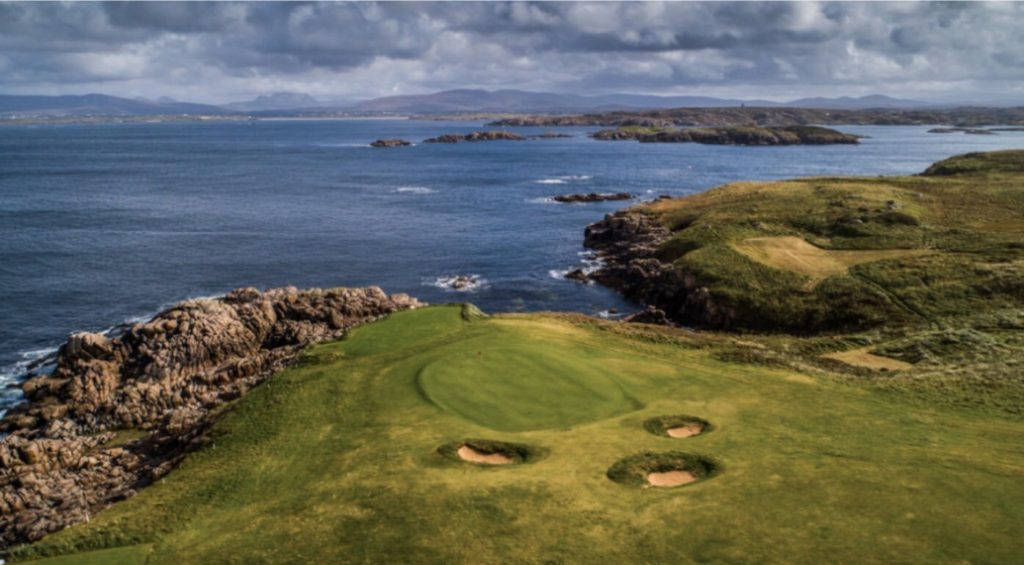 The Golf Supplier originally published 'Where Golf Gods Relax' on 10/21/2020 as part of the Hidden Gems series. Here is a link and a link to 'Clipped Wings', a preview to the 2020 US Open at Winged Foot that appeared on 10/9/20.
More than just Emeralds.
It is unsurprising to find a hidden gem in a country known as the Emerald Isle.
But golf thrives in Ireland and we head back to there for the next in our series.
Twice I have played at Cruit Island Golf Course in northwest Ireland, specifically County Donegal. My first visit was in 2006, and then I returned in 2019.
Not much had changed.
Cruit Island is still my favourite nine-hole golf course and one of my top 5 courses I have ever played. In addition, I will also firmly state and expect anyone who has played Cruit Island to concur.
Hole six is the most stunning par-three in the world.
Cruit Island Golf Club
Cruit (pronounced Critch) is fun golf, an absolute blast to play. Like most nine-hole tracks, the pressure is off, so the focus becomes your playing partners and the scenery.
Relaxing, the way golf should be played.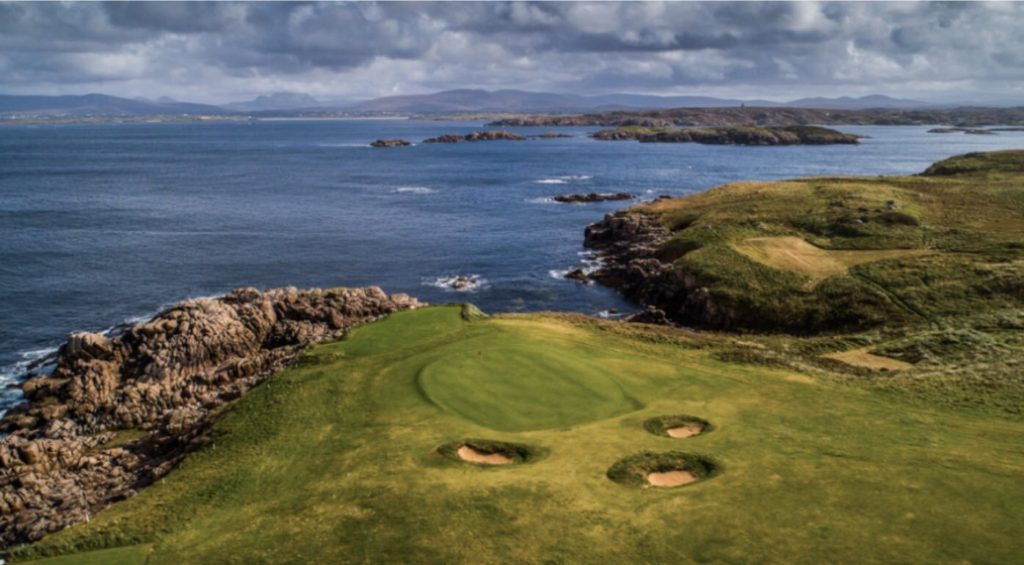 However, I'm here to raise expectations. Cruit Island will exceed whatever you might assume about a seaside nine-holer, or whatever you may have in your mind's eye as a spectacular setting for golf.
In 2006 I was on a two-man tour of northern Ireland and had heard about Cruit from a Golf Ireland website that I can no longer find.
For instance, I had to continue to convince my golf buddy, George, that we were, in fact, "on the right track" as we keep driving towards the setting sun on a tiny road with constant switchbacks.
We got to Cruit late in the day to an empty car park. We were surrounded by the sea and kept looking for someone, anyone. After a few moments, we found the trolley rack, contributed to the collection box, and set off.
Cruit Island is every bit as scenic as any seaside course, anywhere in the world. And we had the course to ourselves. Magic!
The Golf Gods
I like to think Cruit Island is where the "Golf Gods" might get-away to think about their lives or to decide on the fate of your game. Or perhaps they live on one of the islands off in the distance.
The first tee is on a bit of a platform you climb up to and offers an epic vista. Heroic. Inspiring. Take-your-breath-away. Majestic. That's enough of the fancy description.
While Cruit Island is small and you can see the whole layout from a few different vantage points. Cruit makes you feel tiny in relation to the rest of the world, probably because you can see for so far in all directions. There is a sense of scale and proportion that the sea uniquely conjures.
Back for More in 2019
Back again in 2019 with George and two other golf buddies again we arrived well past 5 pm, in the middle of the week in late September. The only other car in the park was someone setting off to walk their dog on the beach.
Again we had the course to ourselves.
We did come upon someone flying a drone on the 3rd or 4th hole. He was videotaping the course and told us we were about to play "The Greatest Par 3 in the World!" Adding, that he was at Ballybunion the day prior. Considering that perspective, Cruit keeps good company.
Greatest Par 3 in the World
The tee box on hole six is a spit of land, so your back is to the sea. In front of you is a vast chasm where waves push seawater in from two points. It can get violent.
Stories abound about elves or ogres that live in similar caves. You want to carry the whole mess.
The green seems to be on another spit of land and is wide and not very deep. We played down to #5 in a hard rain, but as we walked out to the tee on hole six, the rain stopped, and our collective jaws dropped, gazing at a glorious rainbow.
Pictures are nice but do not do the experience justice.
Playing Cruit Island feels like you are on a tilted boulder covered with grass. When we returned to the carpark, our van was the only vehicle.
Where Golf Gods walk the dog
I remember thinking, this is where the "Golf Gods" would walk their dogs.
In conclusion, it isn't easy to get to, and there is not much else to do on Cruit Island but play golf and walk the beach. We drove the 90 minutes back to Donegal. Cruit Island is an exceptional experience and must be a part of any visit to northwest Ireland.
To learn more about Cruit Island Golf club or see their rates and memberships click here