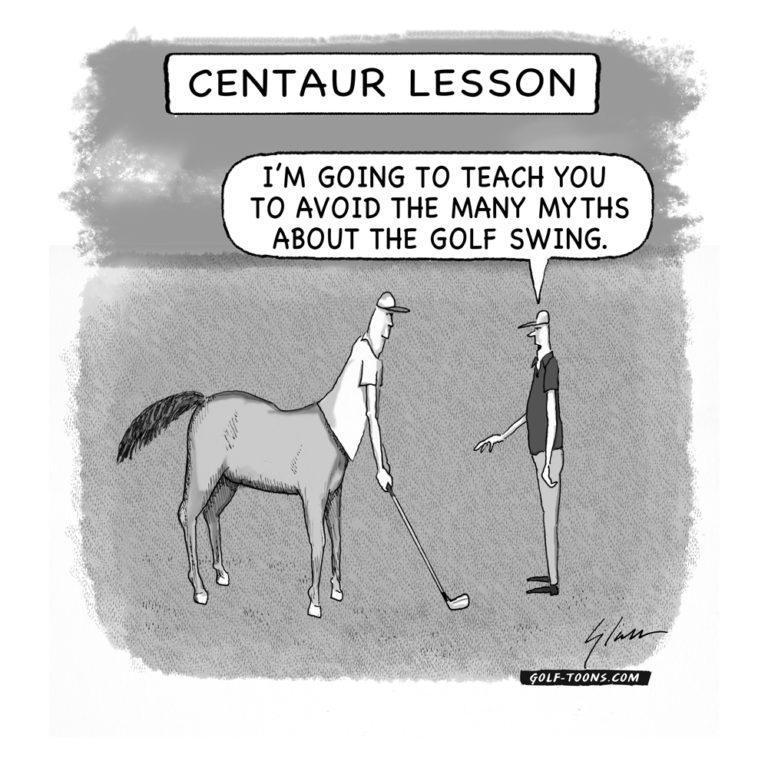 The Centaur returns to GolfToons, this time for a Centaur Golf Lesson. Golf lessons should always start with the basics. The fundaments of the grip, the Address or Stance and posture, Take away or the first part of the swing including the Waggle, the Downswing and Follow through, though Ben Hogan calls this step the summary and review.
When you are trying to help a centaur with his swing, you might need to go back a bit further and void the mind of the many myths surrounding the game of golf. Clever?
I might add replacing your divots and pitch marks and avoid hoof marks on the green. Assume the centaur will carry his own clubs. There is a whole category of etiquette when it comes to the caddy. Raking the bunkers, where to stand. Thankfully we are leaving the pins in the cup.
Golf is a lifelong hobby, a game we can enjoy as a pony through the bucking bronco phases of our life and long after we have been put out to pasture.
Be sure to take your Centaur Golf lesson from a certified PGA Golf Professional.