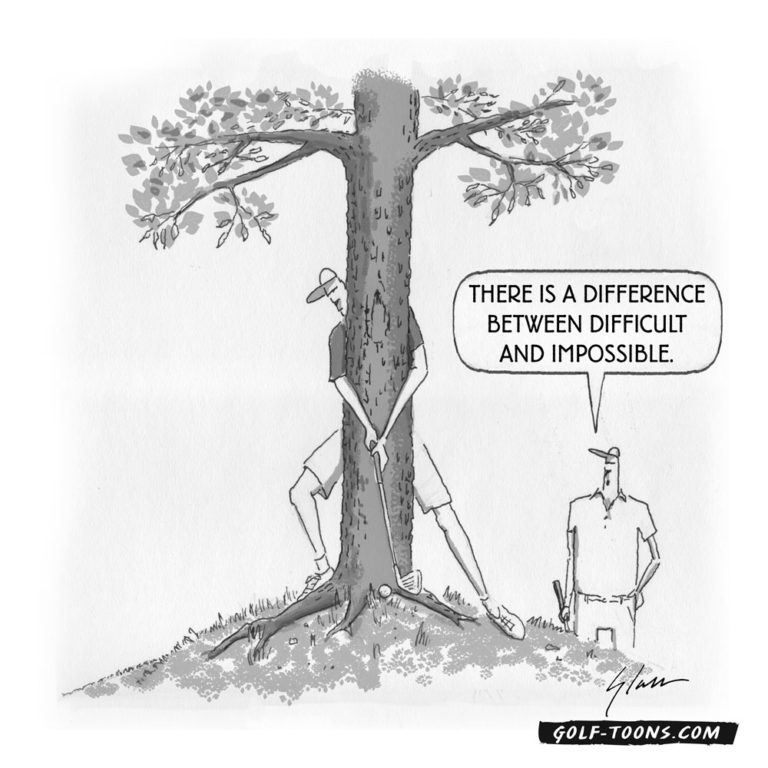 What is the difference between difficult vs impossible?
It really comes down to how you deal with the issue at hand and how you want to approach the dilemma you are facing. In golf terms, what does the shot call for?
Most weekend warriors believe breaking 90 or 80 or 70 is possible. And just this weekend, I heard someone on the practice green say, "I believe I can make every putt." Not any putt, but every putt!
We are ready for anything, and nothing is impossible. Nothing.
On the other hand, almost everything we do on a golf course is difficult. Simple chips, 8-inch putts, and even fishing a ball out of a shallow pond can have treacherous consequences. Nothing related to golf is easy. Nothing.
Let's just say it depends on the lie. Difficult vs Impossible.
GolfToons – Difficult vs Impossible
Golftoons is a scheme between two golf buddies, Michael Duranko and Marty Glass. If this side hustle makes any money, they're gonna blow it on a golf trip. Enjoy!
Check out our daily golf history podcast, Your Golfer's Almanac celebrating birthdays, milestones, and other accomplishments that have occurred on this day in golf history.
Play Fast, Replace all the ball marks you can find, and keep your ball on the short grass.