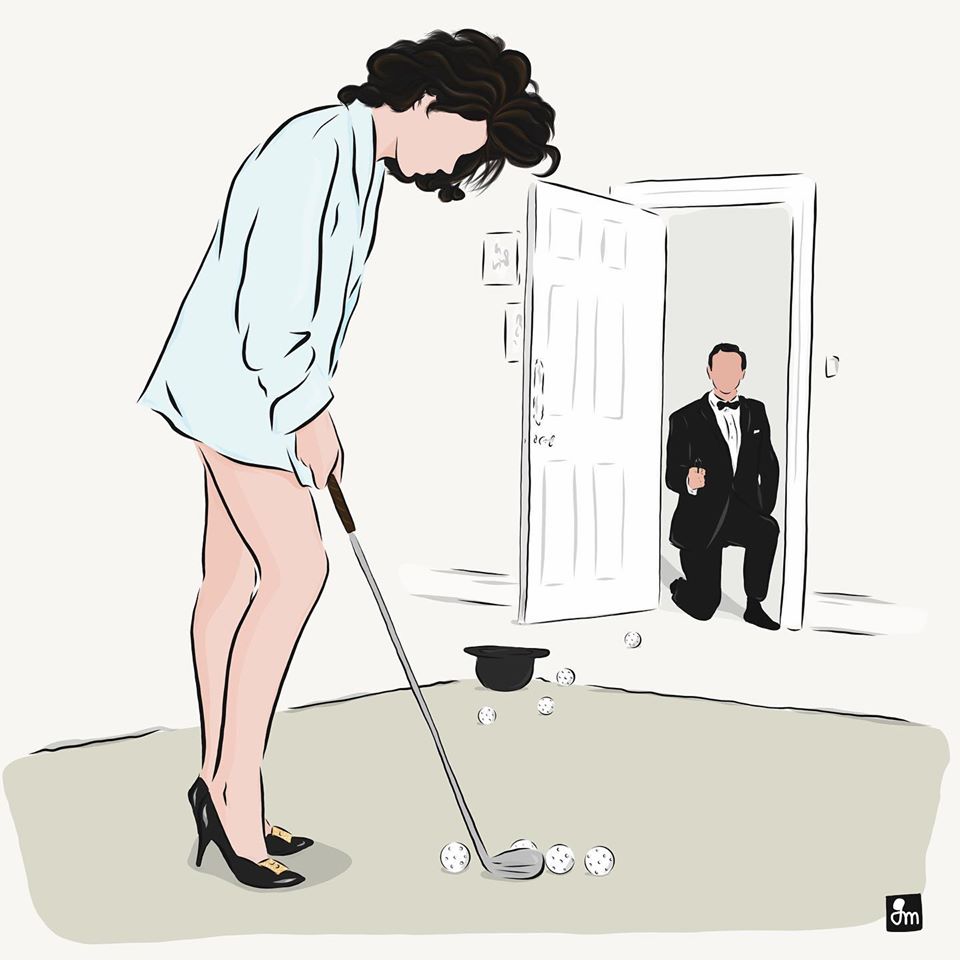 I saw a recent post from an artist on Instagram, @Golfucos. They do golf related illustrations that I like a lot. This scene is from the 1st James Bond movie, Dr. No. Bond in a crouch position with his weapon drawn on a woman putting in high heels. Very cool.
This image got me thinking about other golf scenes in Bond films. I could only think of one other scene, and I hope Golfucos does an illustration.
So, let's go through both scenes and a few obscure details.
Dr. No (1962)
Being the very 1st Bond film, Dr No (1962) introduces the 1st of many 'Bond Girls', Sylvia Trench played by Eunice Grayson. The golf scene has the very 1st Bond girl putting in James' living room wearing high heels and one of Bond's dress shirts.
This is our 1st look at the home of James Bond. Also, we hear for the first time Bond introducing himself in his own enigmatic way, and mimicked countless times… "Bond. James Bond"
This may not be considered as a true golf scene, but it counts in the world of GolfToons.
Goldfinger (1964)
That said, the golf scene in the 3rd Bond film Goldfinger (1964) should rank high on any list of greatest golf scenes in a movie.
Bond and Auric Goldfinger, the title villain played by Gert Frobe of Chitty Chitty Bang Bang fame, are playing a high stakes match, "Strict rules of golf" as they agree. This is the last time the title is taken from the villian in a Jame Bond film, I think?
You can check me here (www.007james.com) or or here (www.thejamesbonddossier.com)
Goldfinger is aided by his caddy/manservant, Oddjob. Not only does the mute Oddjob later take the head off a statue with his bowler, and crushes a golf ball in the palm of his hand, but he caddies in what is best described as a mashed-up morning suit, leather shoes and said hat.
Goldfinger is in plus-fours, which I learned refers to the 4 inch extension of the pants below the knees. More details here from www.Bondsuits.com
Bond has a fine, smooth swing you think James Bond would have. He plays a Penfold Hearts golf ball and wears a V-neck sweater with a gold Slazenger panther logo. Again, BondSuits.com
Late in the match Bond tests Goldfinger and Oddjob to find their Slazenger in the rough. After a nearly 5 minute search, we see Oddjob putting a new Slazenger in play by way of the hole in his pant pocket. Cheating?
Bond shares with his caddy, Hawker, that he is standing on Goldfinger's Slazenger. Gamesmanship?
Then, on the way to the 18th tee, Bond switches balls to set up a rule infraction. Goldfinger loses and storms off the final green.
Before wagers are settled in the car park, Oddjob shows off his "hat trick" as a bit of foreshadowing. Classic James Bond!!
The golf scene was filmed at Stoke Park Club in Buckinghamshire, a 1908 Harry Colt design. The outfits and other details are fabulously detailed in blog posts at BondSuits.com.
Can you think of other golf scenes in Bond films? And I would also accept any Austin Powers golf scenes.
GolfToons is about finding the fun in golf while laughing at the agony.