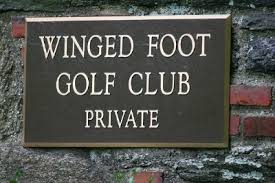 Winged Foot Once
I have been lucky enough to play Winged Foot once. A college buddy had a client cancel at the last minute, and I was the lucky sub. They sent a car to Battery Park City on the southern tip of Manhattan for me, and then we picked up my buddy in Midtown, and drove on to Mamaroneck.
Little Brown Book
From April 1994 to August 1997 I kept a little brown book with notes from every round of golf I played. It is incredible the courses I somehow played in that period; Cypress, Pebble, the Old Course et al (on a Scottish golf trip with my family), Oakland Hills, Doral, Harding Park (before the Upgrade), and Winged Foot.
And, the memories that get triggered are priceless. I don't know why I ever stopped and why I don't start this habit again. But 26 years ago…
In the car after asking about who we were playing with and other particulars, I asked how much this round was going to cost me. Hoping for some expense account love. Though I would gladly pay the greens fee and caddy fee, to be able to get on Winged Foot. Who wouldn't?
My buddy's response surprised me.  "It depends on how much they charge you for a pair of pants in the pro shop."  Confused, I could only manage a "what?"  Unable to hold back his laughter any longer, he told me golfers can't wear shorts at Winged Foot.  "Pants only.  I got your golf and caddy, but there's no way i'm gonna risk a pair of pants."   
The car stopped in front of a walkway lined with caddies. When the collected group caught sight of my knees, I could hear the snickers and the attention on me. Quickly, a caddy master, Patrick, I believe, came to my side, before the trunk even opened.
No Shorts
Just above a whisper Patrick instructed me to step into the locker room. "But under no circumstances, should you enter the locker room until Jose greets you. He may be able to help." With an earnest, serious smile, Jose started with, "You were not told about our pants policy, I assume?"
He led me into the employee locker room and opened an unlocked locker with a few pairs of pants on hangers. His response to my "34 or 36 would be great" was to hand me a pastel yellow poly blended slacks. "Try these 34s" and then "This one looks like a 38."
I knew I was in trouble when my calf felt tight going through the thigh part of the first pant leg. "Let's give the 38s a try" I said as I peeled the canary yellow pants off my left leg. "The length might be a problem, they are 38-30s" Jose noted.
At a tick over 6 feet tall, my legs are slightly shorter than average. Usually I wear 32 or 34 length in Levis. But the locker held no more options, so this was it.
Now 38-30s does not sound so ridiculous at this stage of my life, but back in the day, as they say, the thought was hilarious. I visualized a penguin.
Well, these pants fit me perfectly. Roomy, lotsa space in the pockets and a very generous seat. They fit better than some pants I owned and wore frequently.
The pants I wore that day at Winged Foot did not have a black satin stripe down the side of each leg, as told in my buddy's version of this story. Also, the dimensions have grown to be 42-28 or more extreme in some of his retellings, but I have my little brown book as proof.
That was my introduction to Winged Foot. I don't recall too much more about the day, other than a very difficult golf course with elevated very fast greens.
Donald Trump
After golf, we enjoyed refreshments under an awning overlooking the property. Donald Trump played golf with Marla Maples, and we watched the future President of the United States sweep a 7 footer. As they walked nearby, it was difficult not to look. Marla Maples was stunningly gorgeous. And my note says that Donald Trump is forgetful on the course.
The other note from my little brown book was a summary. "Winged Foot is tempting, but only rewarding to excellence and smart play," I wrote "I produced neither."
The rules have changed at Winged Foot. Shorts are now allowed for golf, as long as they are of 'Bermuda length.' If I get the chance at Winged Foot twice, I will wear pants. And will probably get as many looks as I did wearing shorts all those years ago.