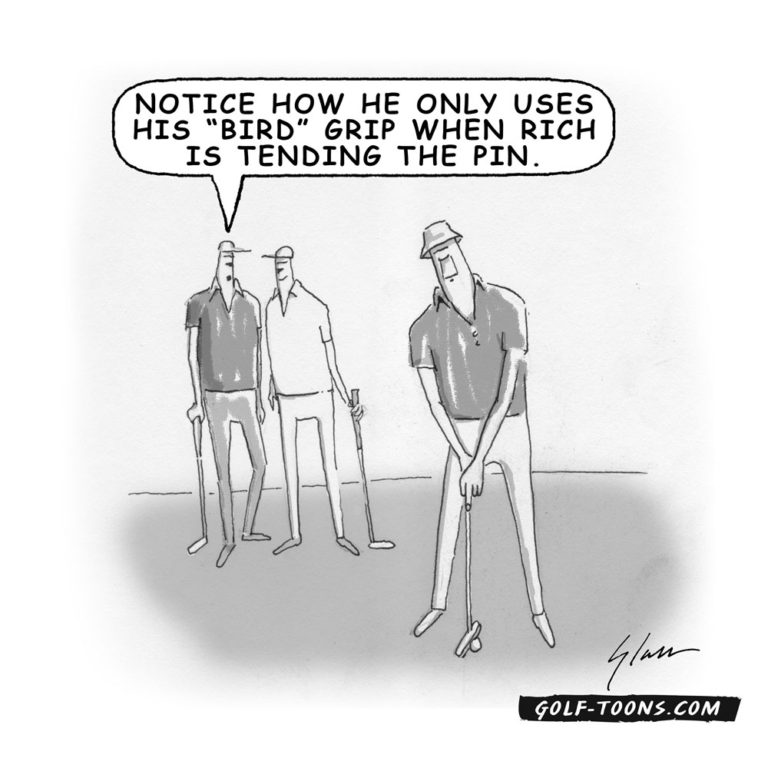 There are many ways to hold a putter, probably as many grips as there are putters available on the market.  Everyone must feel comfortable over their putt, and find confidence in the tools of their trade. Enter the Bird Grip.
Some putters or some grips can send a different message, especially to opponents or nemesis you may find in your foursome. the Bird Grip.
We golfers are a quirky tribe. Spending four hours with someone with slightly annoying tendencies, can be unbearable at times.
After 18 holes, an irksome habit can get quite amplified.  Minor tension can grow to mutterings, cursing, sarcasm and outright contempt.  At times, combatants must be separated, and real danger is possible from questionable errant shots.    
Things can get out a hand on the golf course.  GolfToons likes the idea of everybody getting along, enjoying this great game in Eden-like settings. 
Though if a subtle, hidden message makes you feel more comfortable or confident in making an important putt, then by all means grip as you like.