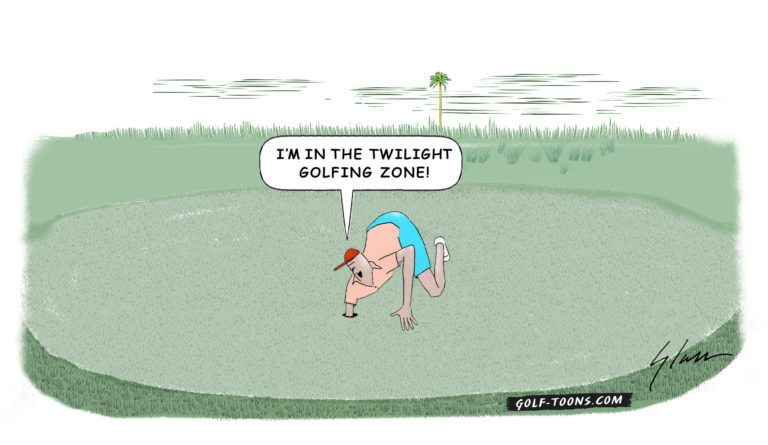 "A journey through another dimension, a dimension not only of sight and sound but of mind. You are entering the Twilight Golf Zone."
Golf can feel like another dimension, an alternate dimension.
Twilight Golf Zone
We go from being in "The Zone," where the hole looks massive, all the putts drop, and you find the fairway (or green) through the trees.
As all golfers know, things can go wrong quickly to a different kind of zone. What comes to mind is Dante and his nine stages of Hell. Yes, we are more literate than your average Golf Blog.
Anyway, back to our version of Hell. The place where nothing goes as intended, from finding the hazards to forgetting clubs a few holes back. Then, the minor annoyances get magnified until everything else that could keep the ball from the bottom of the cup occurs.
Time to reset. Visualize where you want the ball to go. To prove we are not so highbrow, we'll steal a quote from Ty Webb, "Be the Ball."
Zen Golf
If the Zen approach doesn't work, be thankful there are only 18 holes. Since we are quoting movie lines, does this one ring a bell? "…"from which there is no escape"? Steve McQueen is the hint.
The point is with golf, the magic is here one moment and gone the next. But the magic does return, and it could be worse; you are on a golf course. Answer – Papillon, also starring Dustin Hoffman.
There are always surprises in the game for everyone at every level. Thankfully, pulling your golf ball out of the hole is never really too much of a surprise. At least not yet
This GolfToon, Golf Twilight Zone – GolfToons 81 was originally published on the website GolfersRx. Check out the site and get a daily prescription for your game.
***
We tried a few gag lines for this GolfToon but thought a descriptor worked best in the end, Twilight Golfing Zone. But here are a few we considered. Your suggestions?
"A Bethpage Black Hole"
"And I play golf to get AWAY from my proctology practice!"
"Ouch! My ball just bit me."