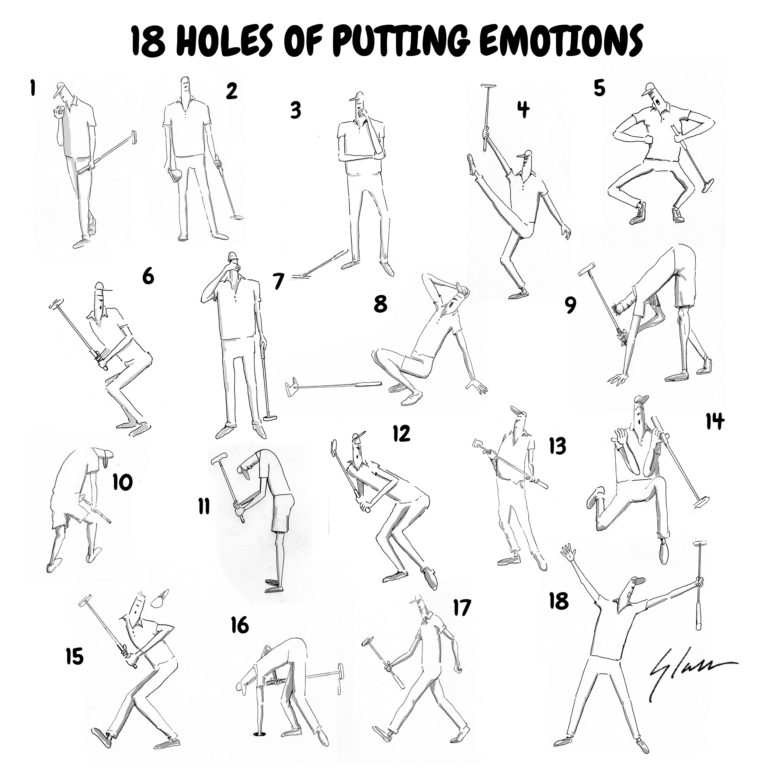 Putting Emotions. On the 18th green at the 2018 Evian Championship, Angela Stanford struck a beautiful putt that curled around the cup. "The best possible putt she could have hit without it going in" said one of the announcers.
Stanford needed the putt for a share of the lead. She took two steps away from the hole, went into a crouch and then held her head in her hands for a moment, rebounded to a single hand covering her mouth, then quickly tapped in her par. Angela Stanford went on to win her first major championship at the age of 40, but she demonstrated some of the contortions we make on the putting green during and after we putt.
The last group in this tournament had three players with opportunities to tie Stanford and as each one watched their putts fail to find the cup, they exhibited additional variations of "putting emotions" poses.
First, Mo Martin with a putter swing, left leg step-out and back into a knuckle bite. Then Sei Young Kim with a frozen body, head nod and then a deep exhale.
Finally, Amy Olson with heavy blink, a putter slap and then a glance to the heavens. Great golf with a dramatic finish. You can also follow on Live Golf Scores.
We all contribute a little twist or stretch to help our putts.  A little something to slow down or speed up, or some other form of encouragement to get the ball closer to the hole.  Impossible to practice, this is an indication of who the putter really is, and like the lines on your palm or snowflakes, no two putting emotions are alike.
We will save the Tiger fist-pumps or the 1 legged, ripped-sleeve Payne Stewart rain-pose for another Golf-Toon. Congratulations Angela!