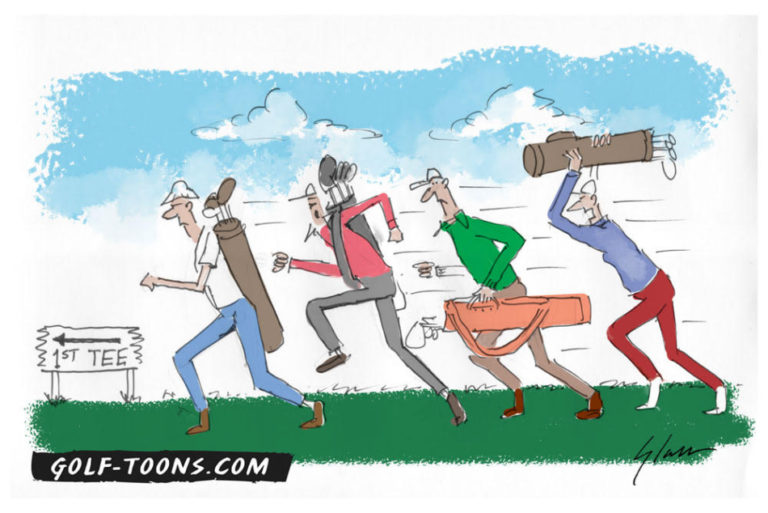 My first visit to St. Andrews was at the end of a week playing many of Scotland's finest: Troon, Turnberry, Prestwick, Carnoustie, Western Gailes, and Gleneagles.  All classic links courses with Gleneagles in the middle to break up the drive.  
We were four college buddies, a few years into our first jobs, with some money to spend.  The trip was a dream that came true, especially thinking back 30+ years to when we went in the early 90s.
We drove ourselves and arranged our own tee times.  After the first few rounds with caddies, we agreed to save the 'duckets' and carry our clubs.  
We didn't have a driver or guide to make sure we made our tee times or to help us find our way.  We winged it.  
All of us were serious golfers, but we considered our time in Scottish pubs just as important.  And we seemed to be running late for every tee time.  
Sometimes the tee times were early; other times, we got lost.  We never missed our slot but also never early enough to roll a few putts or take enough practice swings.
It was a different time, and the links were far from crowded. The golf courses needed our money and were patient with us. 
Typically, we arrived with just enough time to make it to the first tee. 
The golf was a lot less formal, and there were few fellow Americans in late September.  
Royal Troon
Royal Troon was our first stop, and we hired caddies. McKnight was the Caddie Master, and he invited us for a pint at his favorite pub.  A few of the caddies joined us, and we had a blast!  The surviving pictures are not only proof but fond memories of the fun.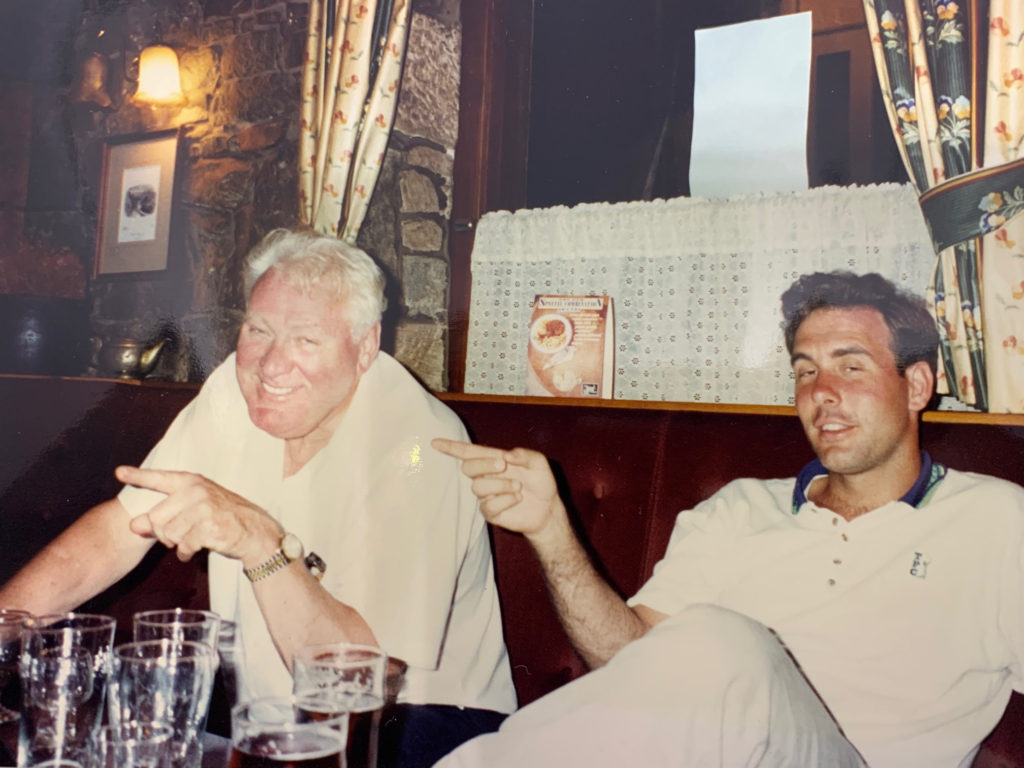 But at St. Andrews, the Home of Golf, we all agreed that we would not be late to our afternoon tee time.
While this was the early 90s, getting on to the Old Course was still a challenge.  They had a lottery system that supposedly drew random tee times. 
McKnight seemed to help our standing in the St. Andrews lottery, at least that's what we liked to think about landing a 2 pm tee time.
After rising late and getting to breakfast just as the house-marm was about to give up on us, we demolished yet another "Full Scottish." Then we visited the gravesite of the Morris family.  
On the way to the links, we walked through town in our spikes carrying our golf clubs. After loosening up, we reported to the Starter's Shed just as a group of golfers was leaving the first tee.  
St. Andrews Starter
The starter came out of his station and collected our information without looking at us. He had a severe, stern look and a clipped Scottish accent that we had become familiar with after a week in Scotland.  His sweater was an impressive collection of lint, crumbs, and gray hairs of various lengths.
He welcomed us and mentioned a few local rules we all forgot. His last bit of instruction to us was, 'wait until the group in front of you has teed off from #2 before you start your game.'  
With that, he left us on the tee box, shutting the door to his windowed lair to attend to other more important affairs. 
First Tee at St. Andrews
Giddy, we laughed at our good fortune—the links before us, the R&A clubhouse behind, and sunny blue skies above, about to play our first round on the Old Course. 
We looked out onto the impossibly wide 1st fairway and saw the group in front of us leaving the first green.
There was a burn, a stream, in front of the first green, that we had no intention of trying to hit over it.  So, we teed it up and hit down the 1st fairway—no big deal.  
When the last of our group hit their tee shot, we heard the microphone click on.
"I told ye gents to wait until the second tee was clear.  What's wrong with ya?!!" Click.
We all froze—wide-eyed in various stages of picking up a tee or our golf bags.  What do we do now, thought all of us.
I distinctly remember the admonishment echoing off the buildings across the street—the Tom Morris Golf Shop and the St Andrews Woollen Mill.  Casual passersbys stopped and took interest in us.
At least one car braked and rolled down their window, wondering what was afoul on the 1st tee. Walked dogs looked at us and sniffed.
After what seemed like an endless pause, a truly 3rd-trimester pregnant pause, the microphone clicked on again.  
"Go on. Play yer Gowf!" screeched the microphone, and it clicked off.  
With that, we walked down the first fairway at St. Andrews.
I don't remember much about the golf at St. Andrews after all these years, just four gents walking onto the links with our tails between our legs.