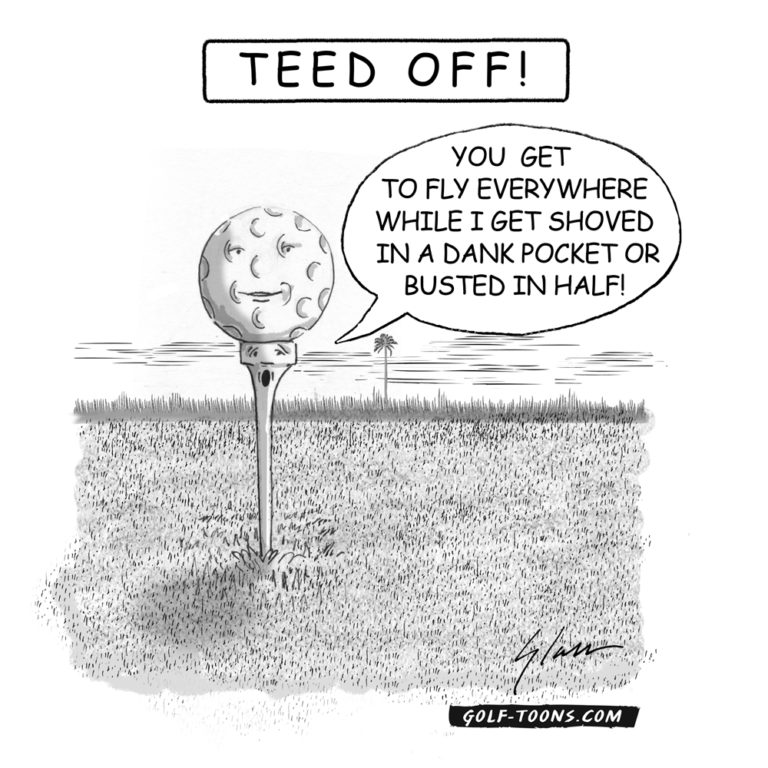 The golf ball is important and he knows it. The golf ball gets teed off but is not teed off.
Today's golf ball has evolved and changed so drastically over the millennium, he has changed the game of golf itself. Some of the innovations have been dramatic. Some cosmetic. Nonetheless, so many advancements allow him good reason to act smugly towards the lowly tee. The golf tee is teed off.
Tees can snap or end up buried deep into the earth, ending a promising career.  And that really tees them off.
Early versions included paper, cork, rubber and then, for a very long time, wood.  Not really rocket science or any form of artificial intelligence.
Today, plastic and wood tees come in a plethora of shapes and sizes. But try as a solid tee might, any claims of improvement sound like the guy in a cheap suit and clip-on tie selling stock tips. 
Balls are ballsy, with his claims of adding length, controlling loft and keeping you in the fairway.  
The best a tee can lay honest claim to is being a dependable partner that always stays close by during a round. 
Golftoons is a scheme between two golf buddies, Michael Duranko and Marty Glass. If this side-hustle makes any money, they are gonna blow it on a golf trip.