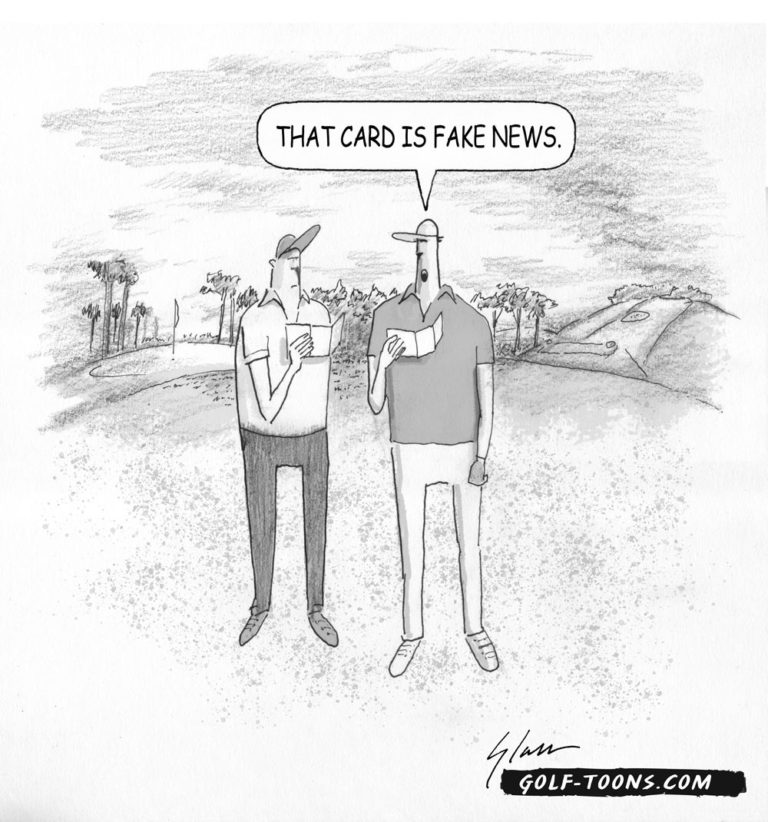 Recounts and Fake News. Topics ripped from recent headlines that, unfortunately, at times, overlap with golf. After all, golf does involve recounts and verification.
Every golfer has probably endured the dreaded suspect scorecard moment when comparing scorecards; the numbers just don't jibe. We're not talking about the occasional errors in addition or the 6 that should have been a 5 but the flat out "fake news" card—alternate reality golf. Perhaps, Fore vs. Four that we covered in GolfToons 24.
Often these are the handiwork of the "algorithm golfer." The one who says, "Just give me a double bogey," after OB'ing their tee shot, followed by a shanked fourth, a chili dipped chip, and memories of strokes left in the trap. God loves them; there's just no reforming them. Just don't gamble with them.
To avoid harsh words, sometimes you have to laugh. To keep the peace, label these characters with unshared nicknames like Foot-wedge Fergus, Mulligan Moe, Fuzzy Math Finn, or Reload Ralph. These monikers will stick like that beautiful 7-iron you had on the backside.
Their strokes may not add up, but in time their reputations will.
*****
Golftoons is a scheme between two golf buddies, Michael Duranko and Marty Glass. If this side-hustle makes any money, they're gonna blow it on a golf trip. Enjoy!
Please subscribe and check out the social media pages. There is some pretty funny stuff that probably does not make it to this website.