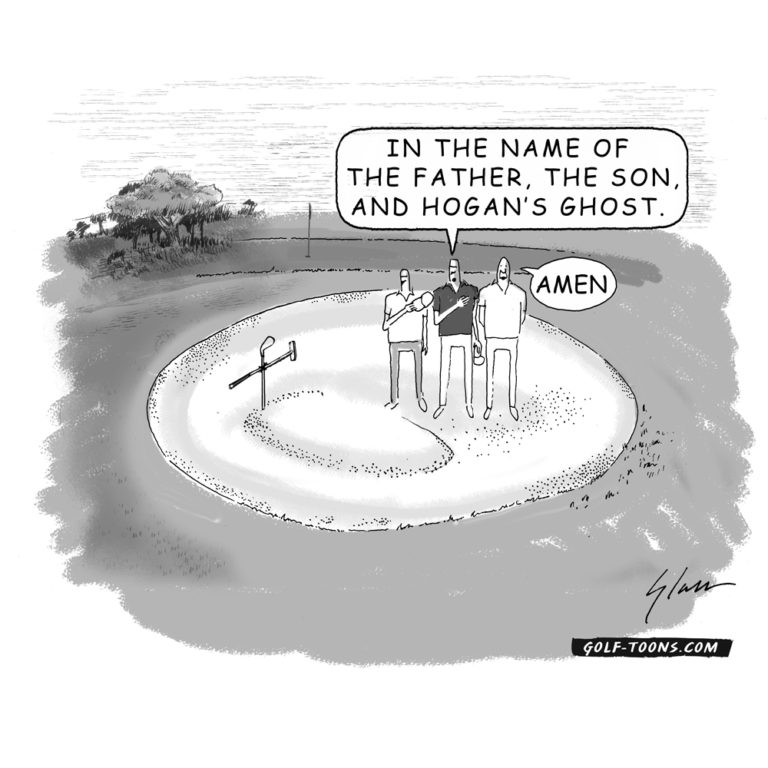 There are times golf reminds me of religion. Hogan's Ghost.
Like most faiths, the golfer's sabbath is usually a weekend event, and the more devout congregate multiple times a week. For instance, the clubhouse is the church, and the head pro is the pastor. After that, even a trip to the sacred grounds of Augusta or St. Andrews could be likened to a pilgrimage to the origins of the golfing religion.
Above all, our prophets are names like Tom Morris and Donald Ross. Our saints include Bobby Jones, Seve Ballesteros, Payne Stewart, and Arnold Palmer. The sport of golf is also vitally involved in charity, raising money to help fight disease and poverty. In conclusion, Hogan's Ghost.
But since our goal here is to make us laugh at some of the difficulties and absurdities of the game I leave you with an old joke.
A golfer comes home after a round dejected and tired. His wife says, "What's the matter, honey?"
"Oh, we had a terrible thing happen on the course. Joe dropped dead from a heart attack in the middle of the round," the husband says mournfully.
"That's awful. What did you guys do?" asked the wife.
"Swing. Drag Joe. Swing. Drag Joe. By the end of the round we we were exhausted.
Golftoons is a scheme between two golf buddies, Michael Duranko and Marty Glass. If this side hustle makes any money, they're gonna blow it on a golf trip. Enjoy!
Check out our daily golf history podcast, Your Golfer's Almanac celebrating birthdays, milestones, and other accomplishments that have occurred on this day in golf history.
Play Fast, Replace all the ball marks you can find, and keep your ball on the short grass.