Freelance Writing - Blogging, Copywriting, SEO, Social Media and Digital Marketing Strategy.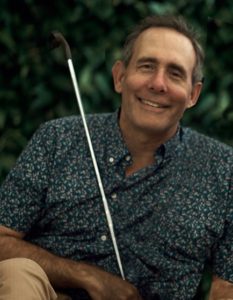 Michael Duranko is a passionate, lifelong golfer from Rochester, New York [Oak Hill CC] now living in Sarasota, Florida [SaraBay CC] by way of New York City, Seattle, San Francisco, Atlanta, Dallas, and East Lansing, Michigan (Michigan State University) Go Green!
Other interests include open water swimming, loose leaf tea, locally roasted coffee, MSU Sports, golf history, golf humor, and comedy in general.
On April 2, 2022 Michael launched Your Golfer's Almanac, a daily golf history podcast, which he writes, produces, and narrates.  
CURRENT CLIENTS
GolfToons – Golf cartoons with commentary.
Your Golfer's Almanac – Daily Golf History podcast
Sip Locally – Blog for the tea site for Local Tea Company.
Body Rolling Dianne Glass – Wellness video subscription service.
Palms Golf Club at Forrest Lakes – Sarasota, Florida
PAST CLIENTS
GOLFTEC – Email and newsletter content.
GolfersRx.com – Copywriting, SEO (web and YouTube) and Digital Strategy.
IceRays UV Sun Sleeves – Australian Golfwear Co. owned by Anne Rollo.
Falko Golf Gloves – BirdieMail Newsletter (Julia Engstrom, Tyrrell Hatton Hoodie, No DJ at the CJ)
WRITING EXAMPLES
"Small But Mighty" Palm Beach Par 3 Golf Course, "Where I Would Love to Play" College Campus Golf Courses, "Where the Golf Gods Relax" Cruit Island Golf Club Course Review, "Clipped Wings" 2020 US Open Preview – The Golf Supplier.
Tea for the Tillerman 50 Years later – Yusuf Cat Stevens
Shadow Putting Off the Toe Shirts v Skins Athletes
Life is too short to drink bad tea Who was Earl Grey
James Bond Golfing with Goldfinger
BOOKS
Bootism: a shoe religion – Co-author of a cleverly illustrated look at people's passion for fashionable footwear. The book was published in 2003, and above all, is still amusing. Humor / Gift Book – Andrews McMeel Publishing (September 1, 2003) Holding firm with an Amazon Best Selling Rank of 11,806,160. However, no bullet.
CONTACT
mike@duranko.com
941.726.1660.